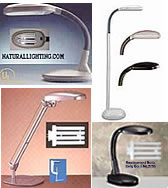 There is scientific evidence to suggest that lighting plays a critical role in the office environment. Ergonomic Lighting can increase employee productivity at a relatively low cost. Purchase a full spectrum Ergonomic Desk, Floor, or Clamp-On Lamp today and see how lighting makes a big difference.
Studies show that under good lighting people see better, work better, feel better and make fewer mistakes. Workers experience fewer headaches, greater eye comfort, and a feeling of general well being.  Our lamps include True Full Spectrum light bulbs 5500 Kelvin - (noon day light) and 96 - Color Rendering Index (sun light = 100). Most companies claim to have full spectrum, or use the terms natural spectrum, day light, natural day light, and do not indicate color temperature and color rendering index.  Most are 6000K - 6500K (blue tone) and 80 to 85 Color Rendering Index.

NEW ENERGY STAR RATED - Deluxe Cherry Wood Finish Desk and Floor lamps, Deluxe Burlwood Black Desk and Floor Lamps, Deluxe Brass Floor Lamp.