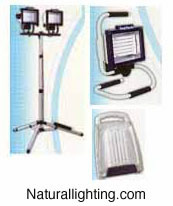 Work Lights, LED and Fluorescent - Energy Star Fluorescent Work Lights (Regent Lighting, Designers Edge) save up to 84% in energy costs compared to Halogen Work Lights. The work lights are for use where there is low energy supply for remote locations, emergency lighting, rescue lighting, and portable power supplies where there is limited power. These work lights are excellent for enclosed areas due to low heat output. Compared to Halogen that has yellow light, our fluorescent work lights have a bright white light (6500K, 85 CRI) for increased seeability and color. Regent Lighting, Designers Edge.

These Fluorescent Work Lights include fluorescent bulbs with user hours that last 13 times longer than Halogen. The work lights feature instant on, fluorescent work lights have no flicker electronic ballasts, and the work lights operate in sub-zero temperatures. All work lights are excellent for use in wet locations because they are completely sealed and moisture proof. A clear poylcarbonate lens cover protects the bulb from moisture and damage. Work Lights are excellent for all types of shops, industrial, automotive repair, detailing, home/garage, contractors, interior finishing, etc. Fluorescent Work Lights.
Excellent for emergency lighting and rescue lighting where power is limited.

Regent Lighting replacement bulbs - FML55W, FML65W.
Replacement bulbs for Regent Lighting, Designers Edge.