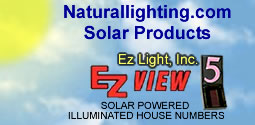 Naturallighting.com solar and environmentally safe solar products for your convenience. Reduce your electricity requirements with solar products that require no utility supplied power.
We will add new products soon, so please bookmark this page and visit regularly for new additions of energy saving sun-powered products. Email
sales@naturallighting.com
for more information.
This category contains 4 subcategories