SunPro Supreme Bright Light Box, 10000 LUX - Item No. SPLB

SunPro Portable Bright Light Box, 10000 LUX - Item No. SPP55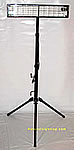 SunPro Supreme High Output Fixture - Item No. SPHOF

*** Save Money and create your own ligt box. We have all types of fixtures that use our full spectrum bulbs. One of the most cost effective is a 4 lamp, 48" surface mount fixture. Dimming available for 32 watt 48" and new HO T5/T6 - 48". See our fixture page. Call to discuss. Majority of light boxes on the market are overpriced, and use standard fluorescent bulbs.

naturallighting.com to inquire about or order these products:
Email
Phone: 281.559.4900
Note: Naturallighting.com makes no medical claims and it is recommended to consult your physician or therapist on how to use light therapy.