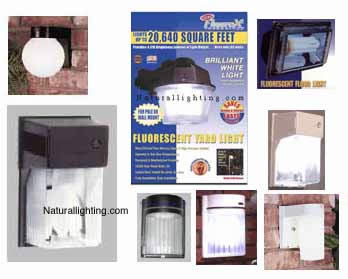 Naturallighting.com carries exterior security wall mount, yard, and panorama light fixtures ideal for patios, walkways, landscapes, and signs.
Lights of America Fluorescent Lighting and Fixtures with electronic ballasts offer an inexpensive way to reduce lighting costs and electrical usage in homes and commercial facilities.
Energy efficient fluorecent lighting can produce a 70% to 90% energy savings over incandescent lighting. Designed for cold weather operation and use long-lasting bulbs that emit bright white light for excellent seeability and exposure. Lights of America fluorescent lighting is extremely efficient when comparing Lumens (light output) to watts used (Lumen/Watt). Fluorescent light bulbs have one of the highest lumen per watt ratings of any type of bulb.