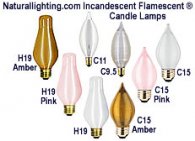 Flamescent and Sparklelite Candle Lamps are available in both candelabra or medium bases, and are for both indoor and outdoor use. Ideal for chandeliers, sconces, candlesticks, starburst and wall fixtures, coach lights, post lights and ceiling fans. Residential use produces a 4000 hour life. Lamps carry a 2 year arranty. Indoors or out, the attractive design of these lamps give the appearance of traditional gaslight. Flamescent Candle Lamps can charm any room, warm up a lobby, enhance a dining area, and create a feeling of intimacy and cheer. These lamps provide the "home-touch" with all the grace of fine living. Call or email for case quantity discounts.
** Flamescent bulbs have been discontinued, however, replacements are avaialble. Same style, wattage, sockets, along with spun fiberglass satin finish. **
** Sparklelites are available. **
We can custom mfg all Duro-test lamps, private label, etc.
This category contains 1 subcategory