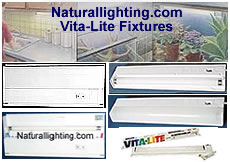 Naturallighting.com 18" and 24" fixtures, 1 Lamp Fixtures (bulb not included).
Excellent for people, pets, and plants. Vita-Lite under cabinet fixtures easily install anywhere - at home or work. Optional lens cover available, but not recommended for use with pets or plants. Excellent for mounting under cabinets in kitchen. No special wiring is required, plugs into a standard electrical outlet.
Call Toll Free 888.900.6830, or Local 281-559.4900 for additional product pricing and details on 36" and 48" Fixtures (available in 1 to 4 bulb fixtures).