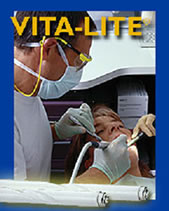 Use
Vita-Lite full-spectrum
lighting in your dental office or lab to accurately decipher colors for prosthetic tooth matching and more.
Color is reflected light. No matter what color-matching method you use, you need the proper lighting for the tedious and time consuming work of matching a bridge or crown. Vita-Lite light bulbs are the best full spectrum light for color matching - Neutral white light 5500K, 91 CRI. Others at 5900K or above have blue tone and distort true color.
Read More >>Vita-Lite for Dental Offices or Labs (PDF format 156kb)

Vita-Lite Full Spectrum Light Bulbs Circline Bulbs are also available.
Excellent for all types of medical lighting for labs, exam rooms, hospitals, etc. NEW LED Natural Lighting Fixtures.
This category contains 1 subcategory