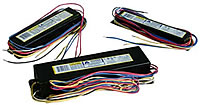 Ballasts for all types of fluorescent and compact fluorescent lamps, metal halide, HPS, etc. Up to 5 year manufacturer warranty. Workhorse ballasts are excellent for use with freezers - temperatures: Low -20 F (-30 C), High -158 F (70 C). Other ballasts include Sunpark Ballasts, Radionic, Workhorse Ballasts - WorkHorse Ballasts (replacement for Anthony Freezer Ballasts), Fulham Ballasts- LongHorse, Fulham Ballasts - RaceHorse, Fulham Workhorse Ballasts - WHAM, Fulham Ballasts - Highhorse, Fulham Workhorse Ballasts - Pony, Advance, Universal, Antron, ACE, Sylvania, Rhine - RB-FLA42/32/26, Lutron, Lutron Dimming Ballasts, and GE. If the product you require is not listed, please call toll free 888-900-6830 (281-559-4900 locally) or send email to sales@naturallighting.com. Please note that manufacturers generally recommend specific ballasts for specific lamps. Please consult with the manufacturer to assure ballast and lamp compatiblity.
The recommendations from Naturallighting.com are based on data from manufacturers. Choice of ballast is the customer's sole responsibility. Please call for questions about use and/or compatibility of products. We can direct you to technical help with various manufacturers.
!! We recommend using rapid start or programmed start electronic ballasts with end of life protection be used for all compact fluorescent lamps. Program start for T5, T8, T10, and T12 is recommended for areas that are turned off and on multiple times a day. The program start will extend lamp life. Contact us for quantity discounts.
WHOLESALE PRICING AVAILABLE ALL BALLASTS - ANY QUANTITY, FULHAM, WORKHORSE, SUNPARK ELECTRONICS, RADIO, LIGHTWAVE, LIGHTSOURES, ANTRON, GE, SYLVANIA, K-TRONIK, Rhine Ballasts- RB-FLA42/32/26, Epsen Ballasts.