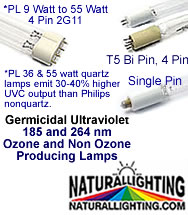 Germicidal ULTRA-UV (UVC) Ultraviolet Lamps emit energy at 254 nm and 185 nm, the ultraviolet wavelengths most effective in the destruction of bacteria, viruses, spores, and other chemical bonds. Naturallighting.com designs and manufactures
Ultraviolet ULTRA-UV
lamps to fit most common ultraviolet systems in use today for waste water disinfection, TOC reduction, Ozone generation, ground water remediation, and other applications where energy at 254 nm or 185 nm is required.
Ultraviolet Lamp lengths range 5.5 inches to 72 inches (T5, T8, T10, PL biax twin tube), and length measurement is from outside of one base to the oustide of the other base, not including the pins. Naturallighting.com also designs and manufactures the proper ultraviolet power supply (electronic ballast) that enables the lamp to operate at peak efficiency and performance.
Naturallighting.com's
Ultraviolet ULTRA-UV
lamps emit the highest UVC output of PL Twin Tube Biax Quartz Lamps on the market. When combined with Naturallighting's exclusive ultraviolet strip fixtures, these lamps produce the most compact lighting systems available. Ultraviolet Germicidal UV output range is 185 to 254 nm, products include both Ozone and Non-ozone producing lamps, and a variety of end configurations including wire leads, 4 Pin, Bi Pin and Slimline, Eletronic Ballasts power lamps with current from 180 to 850 mA, sleeves can be custom cut in a variety of diameters to meet any requirement.
UVC Ballasts - OEM, Private Label, or custom mfg. Lightwave Ballasts, Roberston, Advance, Calutech Replacement Bulbs, Lennox, Honeywell.
Ultraviolet applications include drinkiing water, photochemistry, wastewater, phototherapy, labratory/research, air conditioning systems, medical facilities, hospitals, office buildings, dermatology, pharmaceutical facilities, clean rooms, food processing facilities, material packaging facilities, pool and spa purification, and sterilization/disinfection.
Ultraviolet Germicidal (UVC) Lamps kill airborne mold, mildew, bacteria, and viruses, and can significantly reduce the use of chemicals when using Ozone Pool and Spa Purifiers. WARNING - Ultraviolet radiation output of these lamps is harmful to eyes and skin and can cause damage. Protect your eyes and skin against ultraviolet rays.
Replacements lamps for all brands of UV systems (air / water): Atlantic Ultraviolet, American UV, Honeywell, Lennox, Calutech, Goodman,Carrier Light Sources, GE, Sanko Denki, Higuchi, and Philips.
If a bulb is not listed, email mfg, specifications, and quantity.
We also custom mfg., OEM any type of UVC lamp and ballast.